microEnable 5-CXP V-series boards are high speed image processing frame grabbers for the CoaXPress standard. Based on a high performance PCIe x8 bus interface with Silicon Software's DMA3600 technology, the frame grabbers support up to four cameras with CXP-6. The total image data bandwidth is 25 GB/s and allows demanding applications with high resolution and high speed. Additionally supplied pre-processing functions enhance the quality of images and unloads the CPU from processing.

The vision processor can be graphically programmed by VisualApplets and enables real-time application even with highest speed. The support of the vision libraries SmartApplets enables sophisticated applications by configuration without any knowledge of programming.

Silicon Software microEnable 5-CXP V-series supports a broad selection of 32bit/64bit operation systems and 3rd party image processing software.
"JIIA CXPR-001-2011 Electrical Compliance Test Specification for JIIA CoaXPress Standard (2011-10-28)
Test report No. CXP-ECTR-2015113001 Date 2015.11.30
JIIA CXPR-002-2011 Interoperability Compliance Test Specification (Interoperability CTS) for JIIA CoaXPress Standard ver 0.3 (2011-10-20)
Test report No. CXP-IOTR-2014110702 Date 2014.11."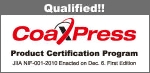 Version1.0&1.1