Member of the Xtium family of frame grabbers, the Xtium-CXP PX8 is based on the industry standard PCI Express™ Gen 2.0 x8 expansion bus to deliver high speed access to host memory. In addition, it offers enhanced memory architecture to handle area and line scan, monochrome and color cameras.

Key features
– Half-length PCIe Gen2 x8 board
– Support 4 input channels of up to 6.25 Gb/s
– Supports 1, 2, 3 or 4 independent cameras.
JIIA CXPR-001-2011 Electrical Compliance Test Specification for JIIA CoaXPress Standard (2011-10-28) Test report No. CXP-ECTR-2018120302 Date 2018.12.3
JIIA CXPR-002-2011 Interoperability Compliance Test Specification (Interoperability CTS) for JIIA CoaXPress Standard ver 0.3 (2011-10-20)

Test report No. CXP-IOTR-2015051003 Date 2017.5.10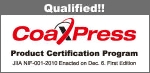 Version&1.1&1.1.1