In recent years, the positioning of images in the industry has become extremely important. Images with a variety of information are a very important factor due to the increasing performance of image sensors, high-speed and large-capacity processors, and the spread of AI technology. Image analysis technology and image processing technology are becoming trends in the industry internationally. Machine Vision technology, which uses images, is widely used around the world, such as in Western countries, where manpower is reduced and efficiency is improved, and in China, where rapid development is taking place.
Against this backdrop, it is essential to promote international standardization activities in the Machine Vision field, and JIIA is promoting these activities.
The Global Coordination of Machine Vision Standards (G3) alliance has been signed as an international framework, and we are implementing and promoting global standardization activities in cooperation with the following four associations.
A3 : Association for Advancing Automation (USA)
EMVA : European Machine Vision Association (Europe)
VDMA : Verband Deutscher Maschinen und Anlagen bau e.V. (Germany)
CMVU : China Machine Vision Industry Union (China)
Global Collaboration Promote Standardization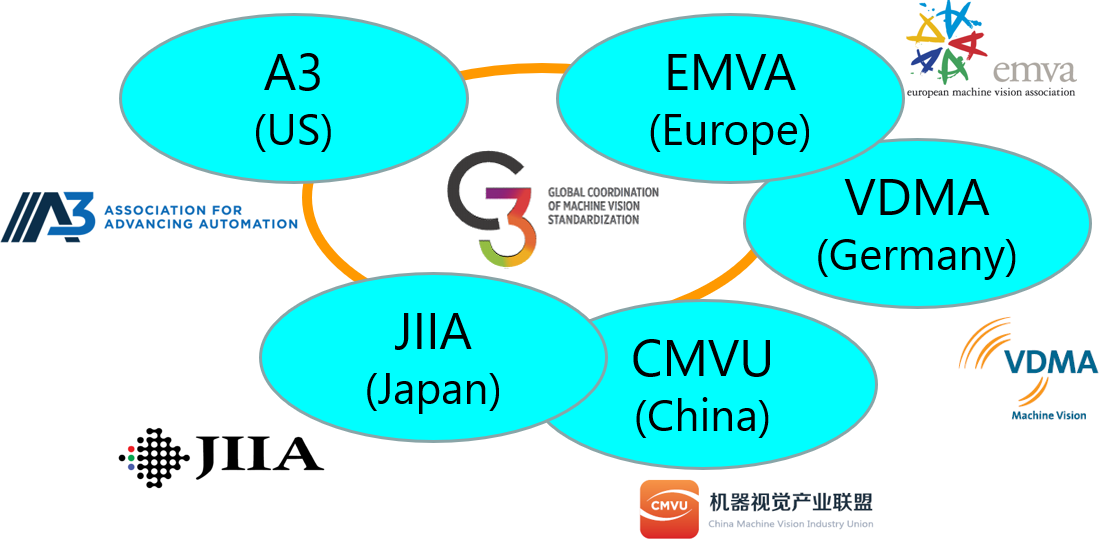 One of the G3 activities is the International Vision Standards Meeting (IVSM), which is held every six months in Europe, North America, and Asia. We are promoting standardization activities on a global scale by holding a technical meeting in which development engineers from each region gather to discuss the standardization of various digital interface standards used in Machine Vision, a Future Standard Forum to share the latest information and consider the next-generation machine vision standards of each association, a Plugfest to verify the connectivity of devices, and standards conformance tests.
In recent years, Machine Vision technology has been spreading in the fields of networks and multimedia. In April 2022, JIIA officially joined ITU-T* and participated in international conferences hosted by ITU-T, and is also working on international standardization.
In addition to these international standardization activities, JIIA promotes the standardization and dissemination of Machine Vision in cooperation with other organizations and by holding various seminars.
*ITU-T: ITU Telecommunication Standardization Sector