6.25Gbps Dual CoaXPress Frame Graber
Model Number:APX-3662/APX-3662-1
by:
AVALDATA
The APX-3662 and APX-3662-1 models are Frame Grabber board which has accommodated to the CoaXPress-standard.
Camera interface of this Frame Grabber is able to connect to the machine-vision camera which has a the Dual 6.25Gbps(total 12.5Gbps) output of the CoaXPress-standard.
PC interface of this Frame Grabber has complied the PCI Express bus 4 line generation 2.
As a unique function, The APX-3662 has a feature to derive image-data to next APX-3662 for processing by mulch PC.
JIIA CXPR-001-2011 Electrical Compliance Test Specification for JIIA CoaXPress Standard (2011-10-28) Test report No. CXP-ECTR-201112120501 Date 2012.2.3 JIIA CXPR-002-2011 Interoperability Compliance Test Specification (Interoperability CTS) for JIIA CoaXPress Standard ver 0.3 (2011-10-20) Test report No. CXP-IOTR-2011121201 Date 2011.12.12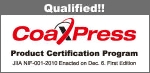 Version1.0